About Us
a unique social enterprise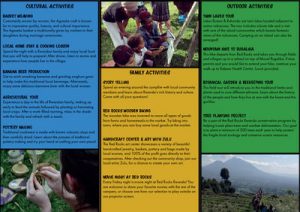 What Red Rocks Rwanda stands for is what our name stands for. Our organization takes its name from the igneous rock that covered Northern Rwanda during volcanic eruptions some 700 years ago. Just like the red rocks, we are deeply rooted in local history and culture.
There's something for everyone at Red Rocks Rwanda, and every visit is a welcome respite from the busy cities our guests leave behind. Our location amidst rolling Rwandan hills and beautiful valleys and our proximity to the Virunga volcanoes make this a hotspot for tourists.
As a social enterprise, we're all about the community, the wildlife, tourism & travel. Our pioneering cultural tourism scheme involves developing our community and promoting our nature preserve through tourism. We strive to make every stay pleasurable and memorable, so bring your cameras, your memory cards and your love of all things natural with you.
---