About Us
a unique social enterprise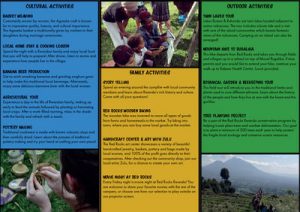 Red Rocks Rwanda cultural center facilities include camping tents and a guest house with a local restaurant. Located in the northern province of Rwanda, Musanze the intercultural exchange offers local tours and volunteer opportunities with other local development projects and as a social enterprise our community philanthropic work is attributed to our love to better humanity of community members.
All community activities and private initiatives offered by Red Rocks work on improving the community with focus on benefitting the quality of life of community people
Our philanthropic work in the rural villages will ensure you are involved in original humanistic traditional communities as well as contribute to the social life development of people.
The cultural exchange campsite offers you an opportunity to be a part of community philanthropic travel with a commitment to conservation and responsible tourism in Rwanda.
Red Rocks Rwanda continues to create long-lasting relationships with the communities in the areas   around the Virunga Massif where we operate by building long lasting relationships with the rural communities and through the work of the Red Rocks initiative identify and sponsor long-term, viable and self-sustaining projects that will have the support of our staff and visitors. The projects that are supported by the initiative are all community collaborative and we work closely with them to determine their needs and improve their well-being.
Come and enjoy the serene beauty of Red Rocks as your stay with us will give you purpose in the most effective way by connecting you with communities and giving you an opportunity of serving others. Embark on an unforgettable philanthropic journey which ensures that we work with people to find life changing solutions to the problems faced throughout the great Virunga massive starting off at Red Rocks where you will Meet individuals from the Community and learn the traditional Rwandan way of life or discover how the local people live in harmony alongside Africa's majestic mountains.
---