Rural Development through Tourism
AGRICULTURAL TOURISM INITIATIVES
In this initiative, we work with the local communities to build synergies and partnerships with other organizations that do conservation and tourism. We encourage conservation and tourism-based farming like indigenous fruit growing, tree planting, indigenous domestic animals and pet rearing and horticulture among others.
SUSTAINABLE EDUCATION
We teach local community skills to enable them to interact with tourists. The women and youth are involved in selling products like handicrafts and it's through effective communication that they can engage with the tourists who visit local attraction sites.
The locals are able to uplift their living standards and help in conservation around our parks. Locals are helped to learn foreign international languages, housekeeping, capacity building, international architecture, modern farming techniques and about the environment and its conservation and other skills that may uplift their living standards. We trust it's through education that we can break the circle of poverty and hopelessness.
CONSERVATION ARTS AND CULTURAL
This involves a surplus of activities aimed at recreation for peace and development. Our organization established Rich arts and crafts galleries to promote cultural music Dance and drama. Our local artists do produce a variety of artistic materials made from canvas and acrylic paints very durable with information about conservation for plants and animals which cannot speak for their own. We have established an art gallery in Kinigi (Base town for Gorilla trekking) that not only preserves our cultural artifacts but also acts as a place tourists can come and see depictions of our cultural heritage. Our talented youthful artists also showcase art that deals with conservation.
LIVESTOCK SUPPORT
For many decades now, livestock has played a significant role in the survival of families in Rwanda. Our program thus is geared towards improving the livestock sector and generating income for poor and vulnerable households through supporting small-scale dairy activities in Kinigi including milk and fodder, production of improved livestock for nutrition, and health services in Nyakinama village for the benefit of families headed by women.
The animal waste is recycled to produce biogas for home use, a key initiative in substituting wood fuel. This is aimed at immensely reducing the depletion of the environmental cover for fuel. The waste is also a source of compost manure, used for subsistence agriculture.
THE IGIHOHO PROJECT (Eco-friendly Seed bags made from banana barks)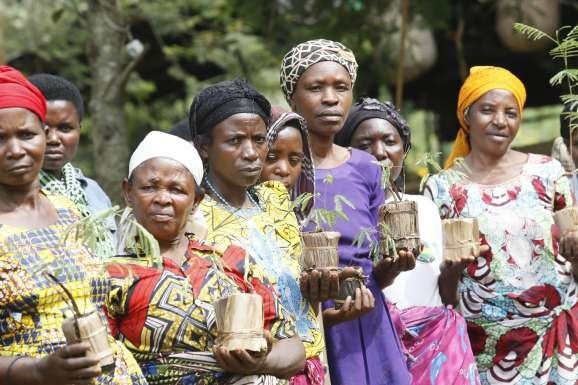 We thought of the idea of switching from petroleum-based plastic containers to an eco-friendly alternative which is a highly visible means to meet consumer demand for sustainable products while capitalizing on a consumer's willingness for eco-friendly products, by making eco-friendly alternative containers " Igihoho seed bag". These seed bags made out of banana barks and are biodegradable and can often be decomposed and are suitable for soil conservation.
The Igihoho compostable containers are made from banana barks which decompose when the plant is removed and they are composted. Our biodegradable Igihoho plant pots decompose and fertilize the garden while it decomposes to add nutrients to the soil. The project falls within the framework of environmental protection and soil conservation, the project was inspired after finding that plastic bags are banned worldwide especially in the entire RWANDA.
VOLUNTEER PROJECTS
Our volunteer projects allow enjoying the sights and sounds of Rwanda while at the same time making a difference to the host community. This is an excellent way to get the most out of your holiday in Rwanda and spend some time with us making a difference to the hosts and the environment. There are so many remarkable, charitable projects that Red Rocks initiatives are involved in, both conservation and community-led which our clients can visit and be a part of – from clinics to schools, to hospitals, to self-improvement, to conservation projects.
BOTANICAL GARDENS
The gardens were established to precisely see how tourism, conservation, and community development can be harnessed. The garden supports modern agricultural practices to boost food production in rural areas and help in conservation and research. The garden also helps in preserving traditional plant species that have medicinal value.
CONSERVATION RESEARCH PROGRAMS
Researchers can visit our facility to do research on different areas like beekeeping, botanical gardens, and cultural activities. We primarily focus on the flora and fauna around the volcanoes national park whereby our team prepares advice on natural and ecological resource management.
SPORTS FOR CONSERVATION
The world of sports offers a powerful and natural platform for participation, exchange and inclusion. We established this program to raise awareness of the need to protect our environment. Sport is an efficient tool for social mobilization bringing together communities and individuals to discuss environmental protection and conservation.
ANIMAL WELFARE
Our initiatives intend to support extremely low-income community members by contributing pet food and vet care as a means of enhancing animal welfare, as well as mitigating the outbreak of pet-related epidemics. We focus on partnerships with individuals and organizations to provide low-cost veterinary care to the pets of the communities we work within Nyakinama Village. Our local vets invite volunteer vets, vet nurses and other animal workers to help improve the lives of the animals within the Virunga Massif
PROMOTING HYGIENE AND SANITATION
Our staff and volunteers provide lessons on hygiene and how they can prevent waterborne diseases. We welcome organizations and individuals to come up with viable solutions on how we can scale up our efforts to continue supporting these families have access to clean water. Your contributions to purchase them water tanks through which they can harvest rainwater are highly welcome.
KITCHEN GARDEN
Red Rocks Initiatives continue to help vulnerable families fight poverty and malnutrition by supporting them to establish kitchen gardens, locally known as " Akarima K'igikoni. We teach the locals innovative methods of growing crops in small spaces and this has produced positive results in the eradication of malnutrition and other related deficiencies.
We also educate them on growing nutritious food on their small lands and support them through buying appropriate gardening tools they use in their small farms.